Bunheads



Start Date

June 11th, 2012

End Date

TBA

Number of Episodes

+10

Next Season

TBA
Bunheads
is the story of Michelle, a Las Vegas showgirl who's down on her luck. She marries her longtime admirer Hubbell Flowers, and moves into his house in Paradise, California. She quickly learns he lives with his mother Fanny Flowers, the owner of Paradise Dance Academy where several students learn ballet, including Boo Jordon, Ginny Thompson, Sasha Torres, and Melanie Segal.
Primary Cast
Edit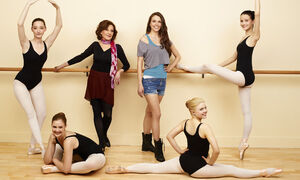 Recurring Cast
Edit
New episodes were ordered on August 17th, 2012. 
The series returned on January 7th, 2012 from the Fall Break
Ad blocker interference detected!
Wikia is a free-to-use site that makes money from advertising. We have a modified experience for viewers using ad blockers

Wikia is not accessible if you've made further modifications. Remove the custom ad blocker rule(s) and the page will load as expected.